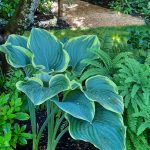 NEW Discount – 50% off all conifers, including native conifers as well as Norway, Red Mountain and Japanese Maples.
The Master Gardener Foundation of Thurston County invites you to their plant-packed nursery located adjacent to the Dirt Works Demonstration Gardens at Yauger Park.
There's still a wonderful selection of high quality plants with reasonable prices, and of course there is no limit on purchases.
Come join us for a wonderful shopping experience to find your perfect plants. You don't want to miss out on our low prices.