Watching a garden develop through the year is awe inspiring. In celebration of this, the MGFTC is offering an opportunity to experience one garden as it transforms from awakening to maturity and riotous color over four visits. You are welcome to participate just once or every time. There's no fee for this members-only event; so if you're interested, please renew your membership or join the Foundation (you may do so at the garden gate the day of the event). Upon reservation of a space, you will receive the address of the garden. Cameras are encouraged on any of the dates. CE credit is allowed for MGs and MRCs. There's a limit of 15 people on each date, so RSVP to Suzannah klanies@co.thurston.wa.us as soon as you can for each one – you don't want to miss out!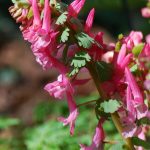 Visit #1: Saturday, March 14 – Spring Ephemerals – 1pm – 3pm RSVP by March 11. The announcement that spring is really upon us is made by the quiet budding of some plants, and the colorful exclamation of others. Come see and share the beauty of these early harbingers – corydalis in many colors, red flowering currant, euphorbia, brunnera, lungwort, unfurling ferns etc. The hellebores should still be in their glory as well. Bring gardening gloves and a plant knife/tool. We'll be digging and splitting some small plants so you can take home a start.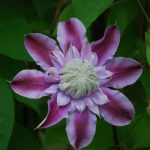 Visit #2: Saturday, May 2 – Spring has Sprung – 1pm – 3pm RSVP by April 29th. Many plants have already come and gone, but there are lots of beautiful specimens just awakening and others in full glory. This time, we'll expect to see bleeding heart (formosa), podophyllum, arisaema (Jack in the Pulpit), clematis, Solomon Seal, iris, oxalis, and hopefully the tree peonies etc. Bring a seed packet for veggies or annuals, or a small potted plant to share. We'll do a seed/plant swap so you can enhance your diversity of varieties this year. And if you're not a seed person, you'll get a new plant! Beverages and nibbles will be provided.

Visit #3: Saturday, June 6 – Early Summer – 10am – 12 noon. RSVP by June 3. The ornamental grasses are flourishing, oriental poppies are out, allium and climbing hydrangea are mingling with bluebells, saxifrage, meadow rue, bergenia, …. OH MY, what a glorious time of year this is. We'll be harvesting some small leaves (or bring a sample if you like – something with strong veins gives the best results) to have a demonstration of how easy it is to make concrete leaf forms. Also bring a small shallow cardboard box in which to make/transport your leaf home. Concrete supplies and gloves will be provided. Beverages and nibbles will be provided.
Visit #4: Saturday, August 8 – Summer Splendor – 5pm – 8pm. RSVP by July 29. Summer drought is in full force, but with a little care, the fuchsia, dahlia, hydrangea, late daylilies, oriental lilies, etc. are the ongoing treats of the summer garden. This last visit will include a demonstration of making semi-hard wood cuttings using currant and hydrangea plants. Dahlia cuttings will also be discussed, but this is really a technique to use in the spring. Wine and cheese for tasting will be provided as a special treat. Additional wine will be available at cost per serving.